About Us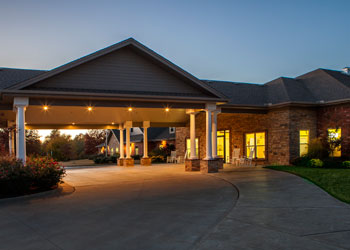 Welcome to Shiloh!  We hope you will immediately notice the quiet and welcoming atmosphere. We have posted pictures of the facility but to truly appreciate the environment you must come by for a tour. We boast the only facility in Northwest Arkansas that has a dividing wall in our semi-private rooms.  We believe that environment makes a huge impact on our well-being and each room offers the resident a window and their own heating and air unit.  We have tall ceilings and wide hallways that give the facility a warm feeling. When you walk in the door you will be greeted with two original artworks from a local artist.
We offer Short-Term Rehabilitation, and Long Term Care services. We customize physical, occupational and speech programs, which are conducted by licensed therapists. These programs are focused on improving mobility and motor skills following an injury or illness. The enrichment of daily physical function can significantly improve a resident's self-reliance and overall happiness. Our therapists provide residents with specially – tailored treatment plans designed to recapture health, independent living and facilitate a return to home.
Shiloh Nursing & Rehab offers both semi-private and private rooms, a state-of-the-art rehabilitation center and a separate rehab entrance for added privacy. Semi-private rooms have a partial dividing wall, providing privacy for each resident, additionally each resident has access to their own window and heating and air unit. Residents are provided with social services, daily activities, housekeeping and a superior dining experience.
We are devoted to delivering the highest quality care while preserving the dignity, grace and well-being of each of our residents. Shiloh Nursing & Rehab is located in a peaceful neighborhood easily accessed from I-540 and 71B in Springdale.